Lil' Dragon's class for pre-school kids ages 3 to 5
Little Dragon class is designed to introduce 3 to 5 year old kids to Martial Arts training. Children are always taught in a loving manner. They learn to pay attention, develop self-control and to follow instructions. The Lil' Dragon students will improve hand/eye coordination through exercises and games designed specifically for their age. They will also learn the basic principles of Martial Arts such as respect for others, earning rewards with hard work and to never give up!  The little dragons ultimate goal is to move up to the Kids classes once the instructors feel they are ready to make that transition. We have an excellent success rate of little dragons moving on to the older kids class! They will amaze you with their enthusiasm and great effort to achieve!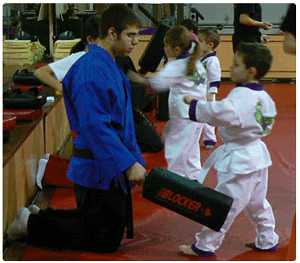 Classes are 1 day per week for 8 week cycles. Classes are scheduled on Saturdays 9:30am, 10:30am and 11:30 am. The sessions are ongoing so you can sign up at any time. We welcome your pre-schooler to come in and watch or even participate in a Free class.
For more information about Little Dragons please call (586) 566-8820.
[one_half_first]
For more information


[button link="https://tongsmartialarts.com/contact-us/" size="medium" target="_parent"]Contact us[/button]
[/one_half_first][one_half_last]
How to Start


[button link="https://tongsmartialarts.com/how-to-start/" size="medium" target="_parent"]How to start[/button]
[/one_half_last]