Martial Arts for Kids
Master Tong's Kids Classes
The kids Martial Arts program is for both boys and girls ages 6 through 12 years old. Children are taught Hup Kwon Do techniques of blocking, striking, punching and kicking. They learn various drills that will develop their speed, power, agility and coordination. The skills they'll learn and the power they'll develop will help build self-confidence.  Showing respect for Parents, Instructors, and fellow students is a priority in our classes. Discipline and self-control are taught and reinforced in every class.  They will be taught how to set and achieve goals with the warrior spirit of not giving up and always trying their best. Stretching, conditioning exercises are all part of the curriculum to help kids grow strong and flexible that will transfer to other sports activities they may participate in. Kids learn best when they're having fun! So playing Martial Art games is critical in keeping their interest level on high as well as learning good sportsmanship.
At Master Tong's Martial Arts, Your children will have fun while keeping physically fit and also gain many invaluable life skills!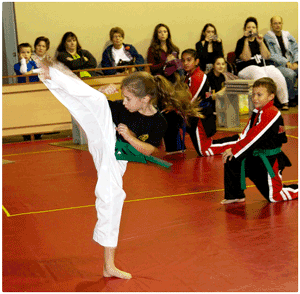 Our instructors are highly qualified in proper technique, teaching, and encouraging kids in a friendly, but disciplined, manner.
We encourage all potential students to come in and watch or even participate in a class so they can get first hand on the fun in learning Master Tong's Hup Kwon Do!
Call us to set up an appointment for a free introduction lesson or just come in for more information.
[one_half_first]
For more information


[button link="http://tongsmartialarts.com/contact-us/" size="medium" target="_parent"]Contact us[/button]
[/one_half_first][one_half_last]
How to Start


[button link="http://tongsmartialarts.com/how-to-start/" size="medium" target="_parent"]How to start[/button]
[/one_half_last]