Master Tong's Martial Art Instructor Biographies
[one_third]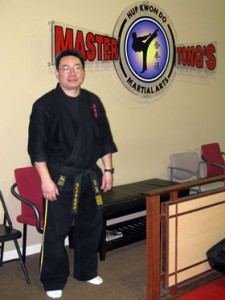 [/one_third]
[two_third_last]Master Ken Tong is a seventh-degree black belt Master Instructor and the Chief Instructor of the Shelby Township location. Founder of Hup Kwon Do and school owner, he has extensive martial arts training in many disciplines including Chinese, Japanese, and Korean martial arts. He has been training for over 35 years and instructing for over 28 years. Master Tong was inducted into the World Council of Professional Martial Artist Hall of Fame in 2008. He is also a successful business owner and has operated martial art schools for almost 3 decades! His passion for instructing is very visible in his exciting & high-energy classes.[/two_third_last]
[one_third]
[/one_third]
[two_third_last]
Connie Joswik, 4th Degree Black Belt and Head instructor.  Per Connie, "On March 5th 1986 I  joined Master Lees Tang Soo Do studio in Clawson.  Although casual about my training at first my master and I quickly realized that I had a natural talent for the martial arts and my training quickly accelerated.
Although it took some convincing on my masters part in May of 1987 I competed in my first Martial Arts competition and won first place in my sparring category and the love for sparring was born.  I started training more and more eventually training 7 days a week for 3 or more hours a day.  And every tournament after that I won racking up more the 25 trophies/metals (unfortunately I was occasionally disqualified for excessive contact since I trained with guys it was sometimes had to toning it down when sparring girls).
My talents were quickly recognized on the circuit and I became a tournament judge in 1989; that's also when I started competing nationally.
In May of 1994 I tried for a spot on the USA team and won a seat on the Women's USA Martial Arts Team.  In 1994 I was to represent the USA in Trinidad for the World Games but the girls team was pulled from competition due to threats.
In 1995 the USA team went to the Goodwill Games in Australia and I won a gold metal in sparring there. In 1995 I was honored as one of the Female Fighters of the year.  I continued competing heavily and went on to win the sparring gold metals at the World Games in 1996 and 1997.  In 1997 I had to give up my seat on the USA team due to some personal reasons and my master had to retire due to health issues. I continued my training at a different school and earned by black belt in Tae Kwan do.  
I then tried several other Martial Arts schools before finding my home at Master Tongs.
In 2005 I stared training at Master Tongs Martial Arts where I currently still train.  Since this was a new style of Martial Arts for me I choose to start as a white belt with Master Tong.  I worked my way through the ranks and I am now Master Tong's highest-ranking student I am also a Head Instructor under Master Tong. On May 12th 2018 I achieved the highest rank in Hup Kwan Do so far and received my 4th Degree Black Belt. 
I am also First Responder certified, AED certified, BLS certified, First Aid certified (including the use of the Epi pen) and I am CPR certified. 
exciting & high-energy classes." [/two_third_last]
[one_third]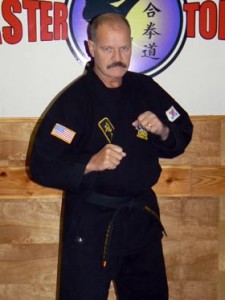 [/one_third]
[two_third_last]
Joel Streeter has been training 28 years, since 1981. He has trained in the U.S. Army close combat in 1967-1970, Tae Kwon Do, Shoto Khan, Choi Kwan Do, Akido and Hup Kwon Do – and is a 2nd degree black belt. HE enjoys the way Hup Kwon Do utilizes all aspects of the various martial arts from stand up to ground defense.
[/two_third_last]
[one_third]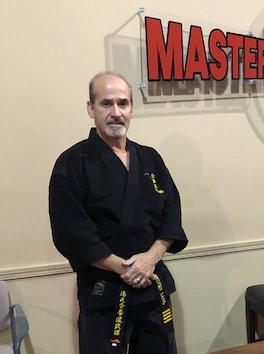 [/one_third]
[two_third_last]
Mr. Steve Lang, 4rd Degree Black Belt, and head instructor.
In 1988 Mr. Lang started training in the Art of Choi-Kwang -Do. Learning self defense and self discipline, where he received the rank of 1st degree Black Belt. In 1994 do to some personal reasons Mr. Lang had to take some time off from training. In 2003 Mr. Lang started training under the direction of Master Ken Tong, who at that time was teaching the Art of Choi-Kwang-Do. When Master Tong founded Hup-Kwon-Do Mr. Lang stayed with Master Tong through the transition and 4 different school locations. Through training with Master Tong, Mr. Lang has learned a great deal, from stand-up techniques to ground defense, close range techniques, take downs , wrist locks, finger locks, arm bars and so much more. In 2009 Mr. Lang was fortunate to be Master Tongs first student to reach the rank of 3rd degree Black Belt in the Art of Hup-Kwon-Do. Now at the rank of 4th degree Black Belt Mr. Lang feels Hup-Kwon-Do has been very rewarding. In which many Martial Art styles have been combined into one Martial Art system. As of 2019 Mr. Lang's grand daughter Sydney started training in the Little Dragons class, which she has enjoyed a great deal. Hup-Kwon-Do is for children and adults of all ages. In Hup-Kwon-Do we have a saying that a Black Belt is a White Belt that never gave up.
[/two_third_last]
[one_third]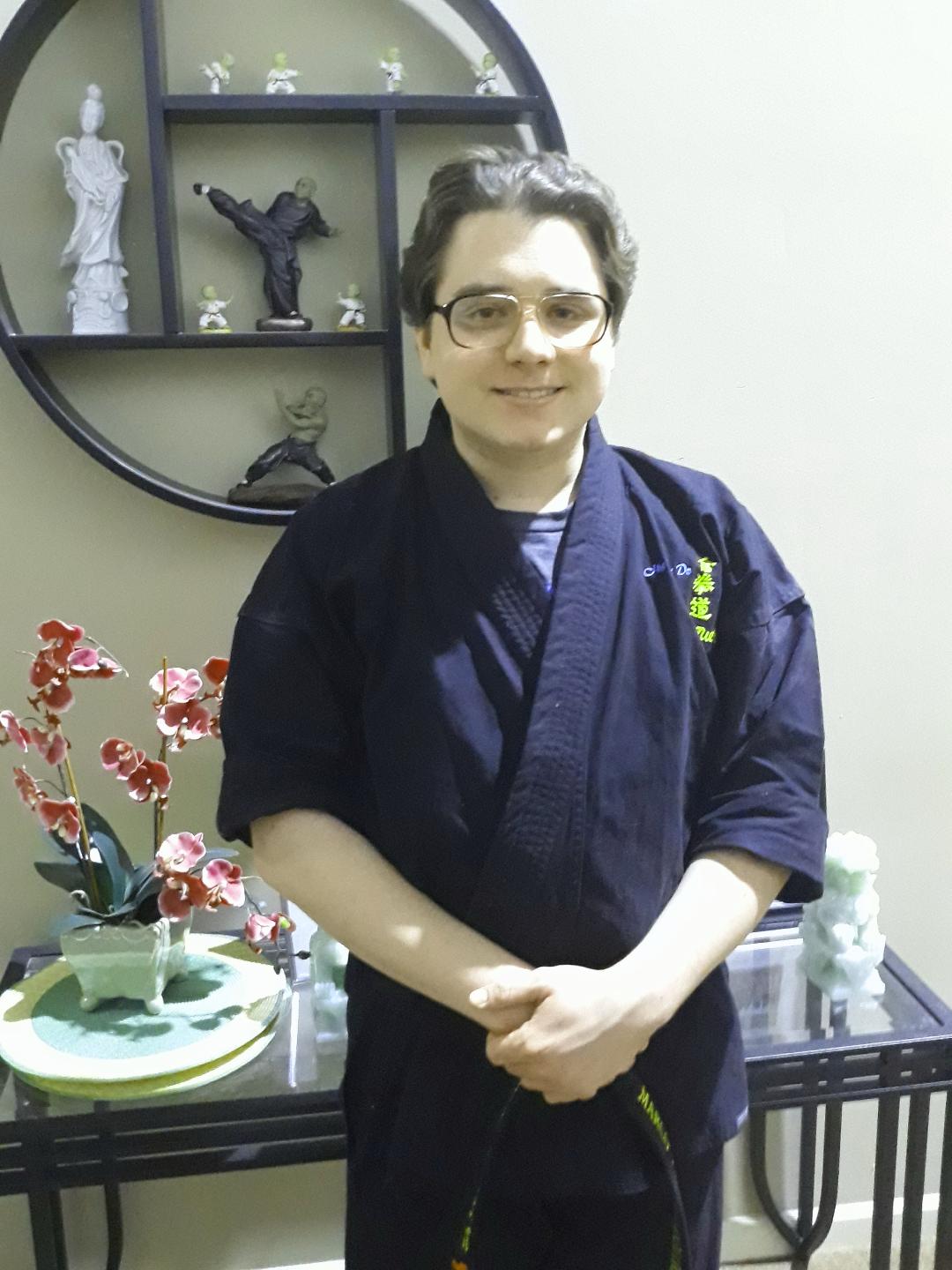 [/one_third]
[two_third_last]
Mr. Marco Pietrantonio began his martial art training in 2010. He earned his Black Belt and became a Head Instructor in 2013. He earned his 3rd Degree Black Belt (Sam-Dan) in 2019. He teaches multiple kids and adult classes weekly. Mr. Marco's passion for martial arts and teaching is evident in his classes. He is always brainstorming innovative ways to teach his students. Helping students to improve their martial art skills is a fun, rewarding experience for Mar
He will graduate from Oakland University with his Bachelor's Degree in 2020.
[/two_third_last]
[one_third]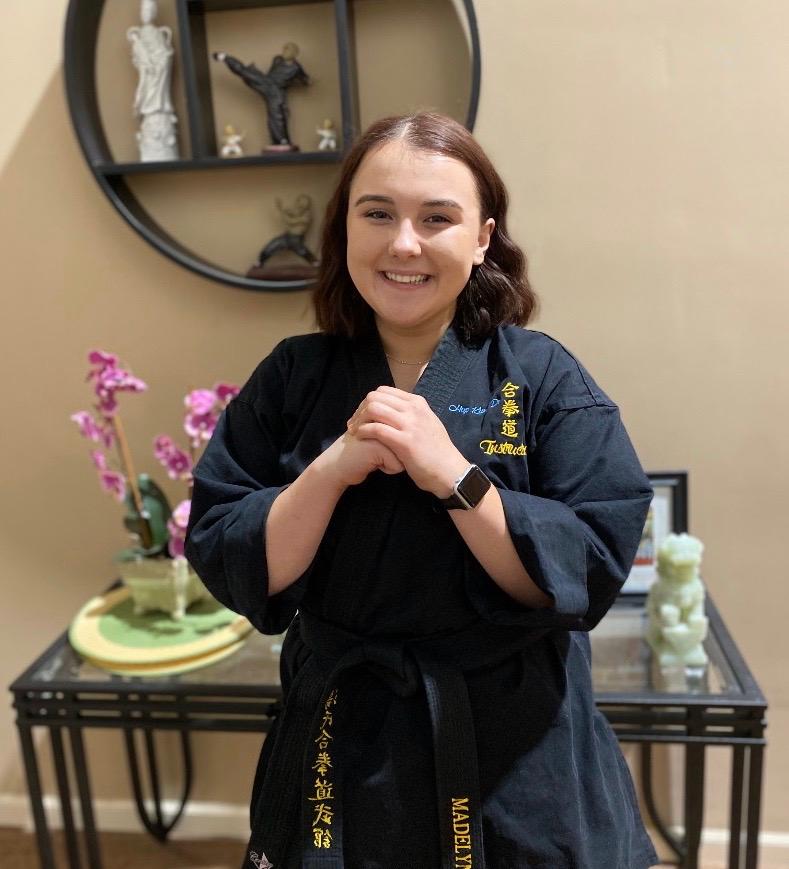 [/one_third]
[two_third_last]
Maddy Hartwig is a head instructor at Masters Tong's Martial Arts. She began her training at 9 years old. Miss Maddy obtained her third-degree black belt (Sam-dan) in August of 2019. She heads the Lil' Dragons program for children ages 3-6, co-teaches the sparring program with Miss Laura, and teaches kids class weekly. Miss Maddy also does a lot of creative planning at MTMA such as the bulletin boards, programs, etc.
Continuing with martial arts from a young age has shaped Miss Maddy into the person she is today. Martial arts have taught her confidence, self-reliance, integrity, and most of all Pil-sung spirit (perseverance). Being an instructor is the most rewarding job, and she is extremely grateful for the opportunity to shape the next generation of martial artists! 
In her free time, Miss Maddy loves to paint, draw, bake, and come up with new ways to improve her teaching and the dojo!  
[/two_third_last]
[one_third]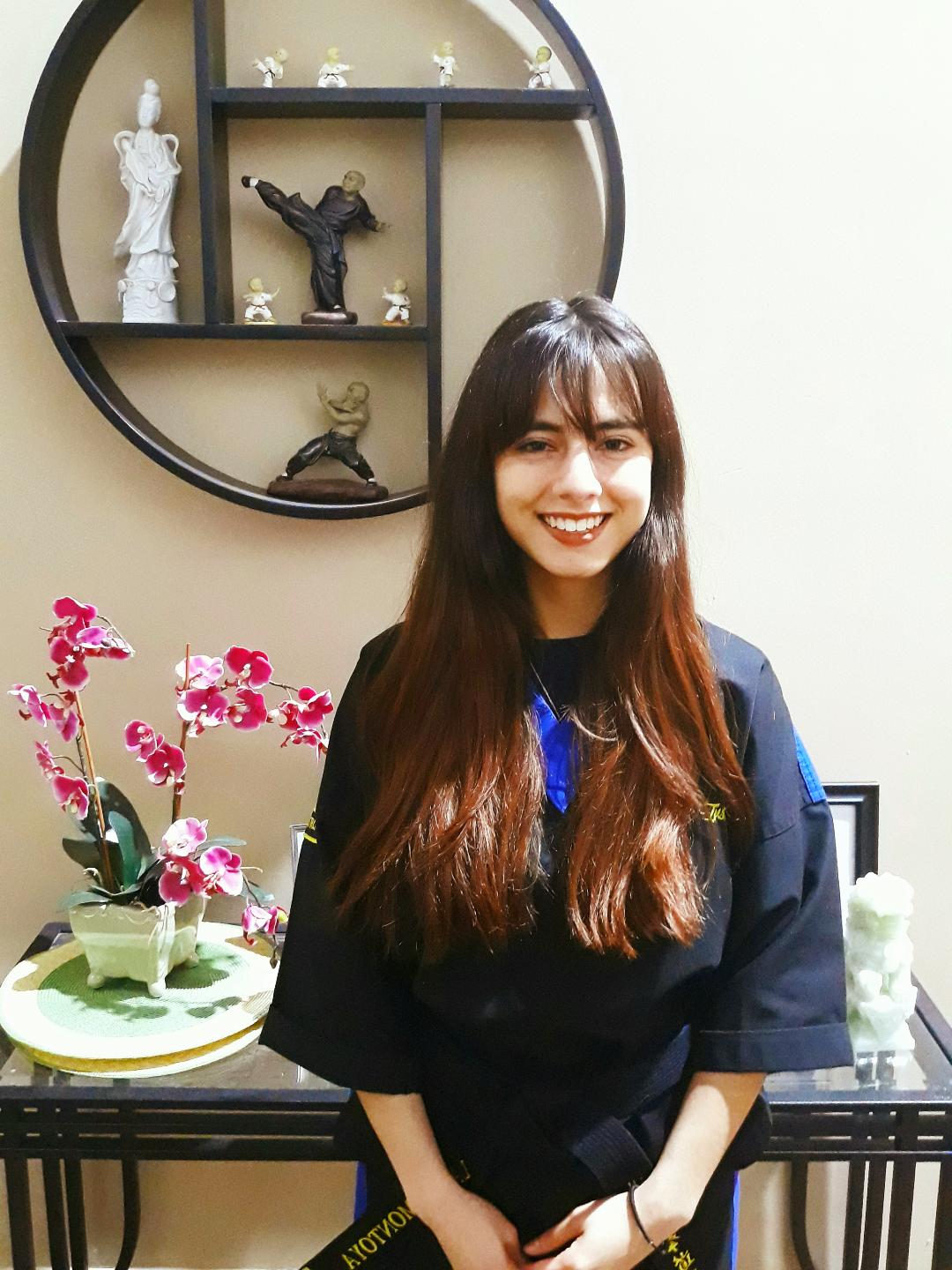 [/one_third]
[two_third_last]Laura Montoya
Laura Montoya started training at Master Tong's Martial arts in 2006 at the age of 10. In 2013, Laura became a Head Instructor and began teaching the Little Dragon's and Kids classes. She's been heavily involved in the development of the Little Dragon's program and the initiation of the DEMO Team and Sparring Program.
As a student, Laura quickly obtained a passion for martial arts and was inspired by many of the incredible instructors. Through martial arts, she learned the value of have patience, self discipline, and maintain a positive attitude. As a Head Instructor, Laura hopes to pass on her passion for martial arts and be a positive impact on her students.
[/two_third_last]
[one_third][/one_third][two_third_last]Kaitlin,
Kaitlin has been training in Hup Kwo Do since 2012. When she began college, she spent the school years away from home in Tennessee. Despite the separation, she practiced Hup Kwon Do every day after classes, and was always excited to come train at the dojo during school breaks. She was determined to keep learning, and in 2019 she earned her Bo-Dan black belt, and then her Il-Dan first degree black belt.
Today Kaitlin is a head instructor, teaching kids classes at Master Tong's Martial Arts. She loves teaching and spending time with the kids, chatting with the parents between classes, and practicing her techniques with the great community of people in the dojo.
[one_third]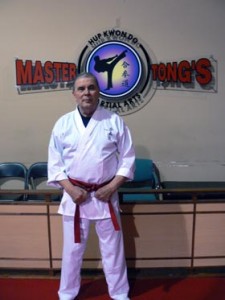 [/one_third]
[two_third_last]Mr. Walter,
1st Degree Black Belt. Instructor for Senior Citizens Class
[/two_third_last]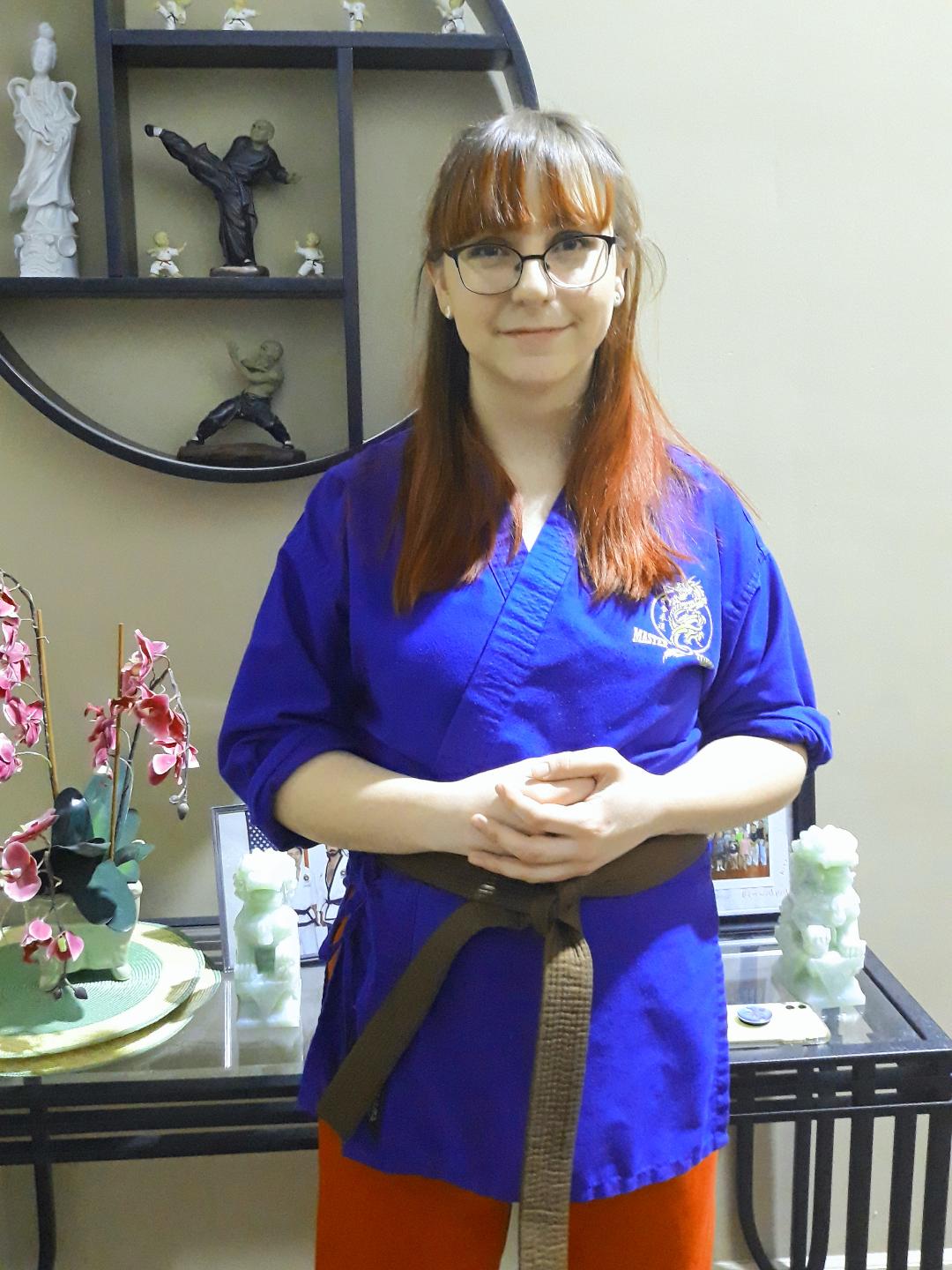 [one_third][/one_third][two_third_last]Raylyn Pietz have been training for two and a half years. She is currently a Brown Belt. She started helping as an assistant instructor for the children's class 1 1/2 years ago. She also assist in the little dragons class, Raylyn enjoy helping students of all ages and is training very hard to achieve the Black Belt and becoming a Head instructor.